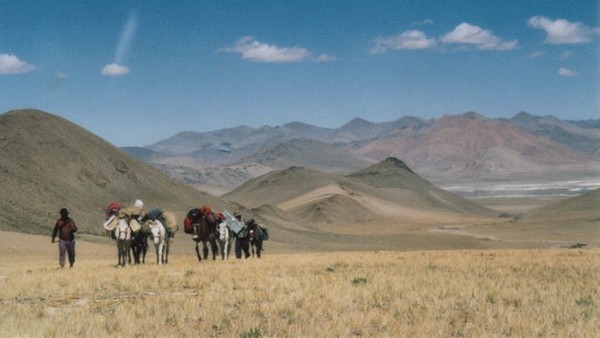 Himalaya
18. 07 - 13. 08. 2023
Last term for registration:
30. 05. 2023

In the heart of the Himalaya,
far from external stimulations and distractions,
we offer a journey, a meeting with your own nature.
The course
The theme of the course has still to be defined.
Trek
The itinerary is a trek which permits us to gradually adapt to the altitude and effort.
We will walk every day, except one or two days of rest.
We will essentially cross uninhabited high plateaus.
We may meet Tibetan nomads and spend some time with them.
There are possible variations due to a different itinerary.
Our accompanying team will be include of a guide , cook, assisting personnel,
horses or donkies for baggage transport, food, etc.
We will sleep in tents.
Stay in Leh
Leh is a small town of about 15,000 inhabitants which is located at 3500 m altitude.
Upon arrival and during the first days we will take time to relax and adapt to the altitude.
(very important)
In any case, if desired, it is possible to visit Buddhist monasteries or small excursions around Leh (organized at place)
We will dedicate 4 hours a day to the course.
We will stay in double rooms at a guesthouse.
Program
18 July :

Departure from Milan or Geneva.
Departure from another airport, please contact us.
Arrival in Delhi.


19 July :

Departure from Delhi.
Arrive in Leh.
Accommodation at guesthouse.


From 19 to 24 July :

We will stay in Leh.
4 hours course daily.


From 24 to 7 August :

Main part of the course and the Trek.


8 August :

From the ending point of the trek to Manali.
In private transportation.


From the 8 to 10 August :

2 nights in Manali.


10 August :

Night bus, from Manali to Delhi.


11 July to 13 August :
2 nights in Delhi.

13 of August :

Departure from Delhi.
Arrival in airport of your choice.

Indispensable
Visa for India, period of stay,
passport valid for 6 months after return date.
Advice
Overseas accident and health insurance.
Good trekking shoes.
Light and warm clothes.
Sleeping bag.
Full screen suncream, sunglasses, hat, sun visor,
water bottle holder(thermostatic-hot or cold), backpack(for food transport),etc....
Price
The price is 6500.- CHF all inclusive:
The course.
The trek: guide, cook, food, accompanying team, horses or donkies, tents.
Airfare from Milan, Geneva-Delhi-Leh and return.
Transport:
Leh airport to the guesthouse.
From the guesthouse to trek departure point.
From final trek point to guesthouse.
from the guesthouse to Leh airport.
from Delhi airport to the guesthouse.
From the guesthouse to Delhi airport.
Double room with breakfast in Leh.
Double room with breakfast in Delhi.
Registration: here

Testimony: here