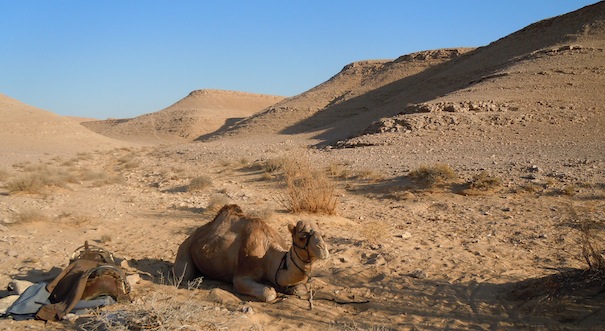 Desert
The Program: from the 03 to the 24 of November 2013
Last date for inscription: The 03 of October 2013

The 03 of November
Departure from Milan or Geneva.
Departure from another airport, please contact us.
Arrival in Tel Aviv.
Driving to Jerusalem.

From the 03 to the 06 of November
3 nights in Jerusalem.
Discovering the city and its history.
studies and meditations.

The 06 of November
Traveling from Jerusalem to Shacharut,
which is the starting point of our trek,
and it is where we will meet the camels.
Sleeping first night in the desert near the camels camp.

From the 07 to the 20 of November
14 days trek in the Negev desert,
combining walk, studies and meditations.

From the 20 to the 21 of November
1 night near the camels camp, where we started our adventure in the desert.

The 21 of November
Driving to Tel Aviv.

From the 21 to the 24 of November
3 nights in Tel Aviv.

The 24 of November
Back home.
Jerusalem
Jerusalem is a very powerful energetic place where our roots
and our Ancients were connected to.
In our studies we will dedicate time to our origines.
The Trek
We will walk between 5-6hrs a day (shanty...shanty.)

There will be 2 or 3 days where we don't walk.
During these days we will dedicate our time to ourselves, the desert and to the studies.

We will be accompanied by a guide with his camels carrying our baggage.

We will sleep in sleeping bags outside under the open sky.


Daily trek schedule

6:00 Wake up, tea-coffee, biscuits.

6:30 - 7:30 Course.

7:30 - 8:00 Preparation of baggage.

8:00 - 9:00 Breakfast.

9:00 - 14:00 / 15:00 Trek (short midday break)

15:00 - 16:00 Relax, hot drink, prepare camp.

16:00 - 18:00 2 hours course.

From 18:00 give a helping hand to the cook, dinner, rest.

Food during the trek

At wake up we will have coffee, tea and biscuits.
After morning practice we will have breakfast.
During short break during trek, we will have a hot drink and something light to eat.
For dinner, warm meal, helping hand to cook. Our guide is also our cook.
The Course
3 to 4 hours course daily.
Meditation.
Introduction and development of different subjects.
Verbal exchanges, questions and answers.
Price
5.500.- CHF all inclusive.

Course.
Airplane, departure from Milan or Geneva to Tel Aviv.
Transport by bus from Tel Aviv airport to Jerusalem
3 Nights in double room in Hotel at Jerusalem
Transport by bus from Jerusalem to Shacharut.
2 nights in camping at departure and arrival of trek, meals included.
(we will sleep in sleeping bag)
14 day trek with camels, including-meals, group accompaniment.
Transport by bus from Shacharut to Tela Aviv.
1 night in Hotel in double room in Tel Aviv.
Transport by bus from the hotel in Tel Aviv to the Airport.
Return trip from Tel Aviv to Milan or Geneva.
Indispensable
Passport valid for more than 6 months after return date.
Advice
Overseas accident and health insurance.
Good trekking shoes.
Light and warm clothes.
Sleeping bag.
Full screen suncream, sunglasses, hat, sun visor,
water bottle holder (thermostatic-hot or cold),
backpack (for food transport), etc....